Today I want to talk about 10 free screen sharing softwares that are awesome and easy to use in 2017.
Dead Simple Screen Sharing
Metered Video
JoinMe
Skype
Google Hangouts
Mikogo
ScreenLeap
Zoom
AnyMeeting
Slack
GoToMeeting free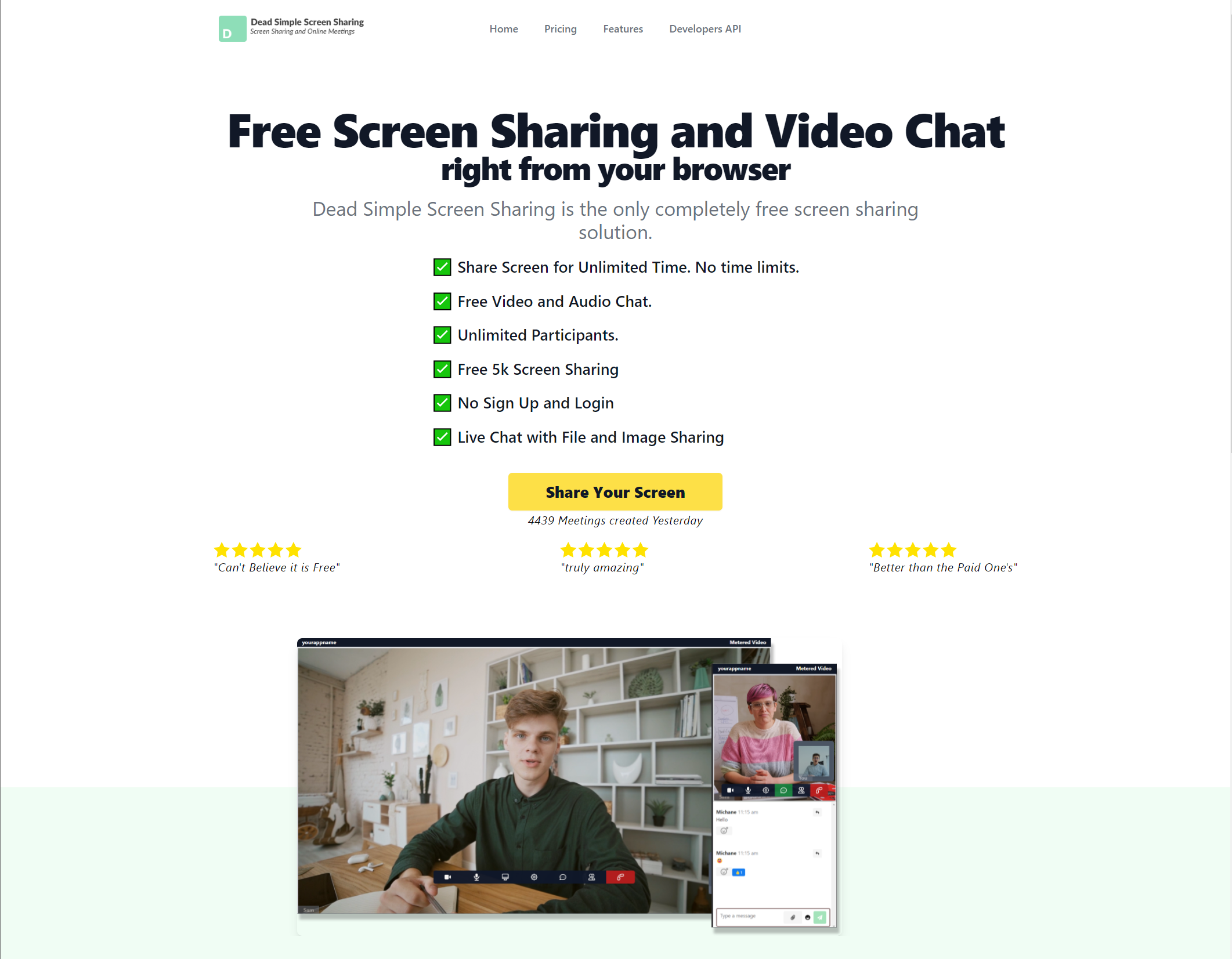 Dead Simple Screen Sharing :
Dead Simple screen sharing is the easiest and the best screen sharing solution available right now, To Share your screen just go to the deadsimplescreensharing.com and click on the
💡
"Click here to get started button"

and voila you are on your way to screen sharing. There are many benefits that Dead Simple Screen Sharing has over other. Here are some of them
HD quality screen sharing
Video Chat
works on all mobile devices
Free to use
Works out of the browser (No need to install separate software)
No signup login required
Easy to use interface
Many other features like audio/video conferencing, chat etc
Active Speaker functionality
HD quality screen sharing:
DeadSimpleScreenSharing provides high definition screen sharing that runs smoothly with beautiful video quality that is sure to impress the most ardent to critics
The smooth rendering on screen with high color accuracy is sure to leave your audiences wowed
Works on mobile devices:
Dead Simple Screen Sharing works on all iPhones and Android phones and tablets without the need to install an app. Now isn't that awesome.
Free to use:

With Dead Simple Screen Sharing, you get unlimited free to use screen sharing with Video Calling
Works out of the browser
Dead Simple screen sharing works out of the browser so no need to install any software or plugin just go to the website and start sharing. As easy as that

No signup/ Account creation required:
You don't need to create an account to share the screen with dead simple screen sharing just click on the start sharing button and the screen sharing session starts.
Easy to use interface:
The User interface of Dead Simple Screen Sharing is made through years of research in usability and ease of use. It has been made such that people from all walks of like can easily use and enjoy using Dead Simple Screen Sharing
Active Speaker Technology:
Active speaker technology focuses on who is talking right now and displays the current speaker's video in the central active speaker window.
Other Features:
There are many other features in Dead Simple Screen Sharing Like:
Audio Conferencing
Video Conferencing
Chat/IM
Presenter switch
Schedule meeting
Invite participants via email
Screen Sharing
Works with Android and iOS devices. Works out of the browser does not need apps.
Pricing: Completely Free
Metered Video:
Metered Video is a Pay as you go solution. Where you can embed video calling and audio chat to your website and app and come with the following  advanced features:
1. ✅ Embed on your Website / APP
2. ✅ Custom and Fixed URLs
3. ✅ Cloud Recordings
4. ✅ Customization with Colors and Custom       Font to Match your Website / APP
5. ✅ Moderation Features
6. ✅ Video APIS to create rooms
7. ✅ Many More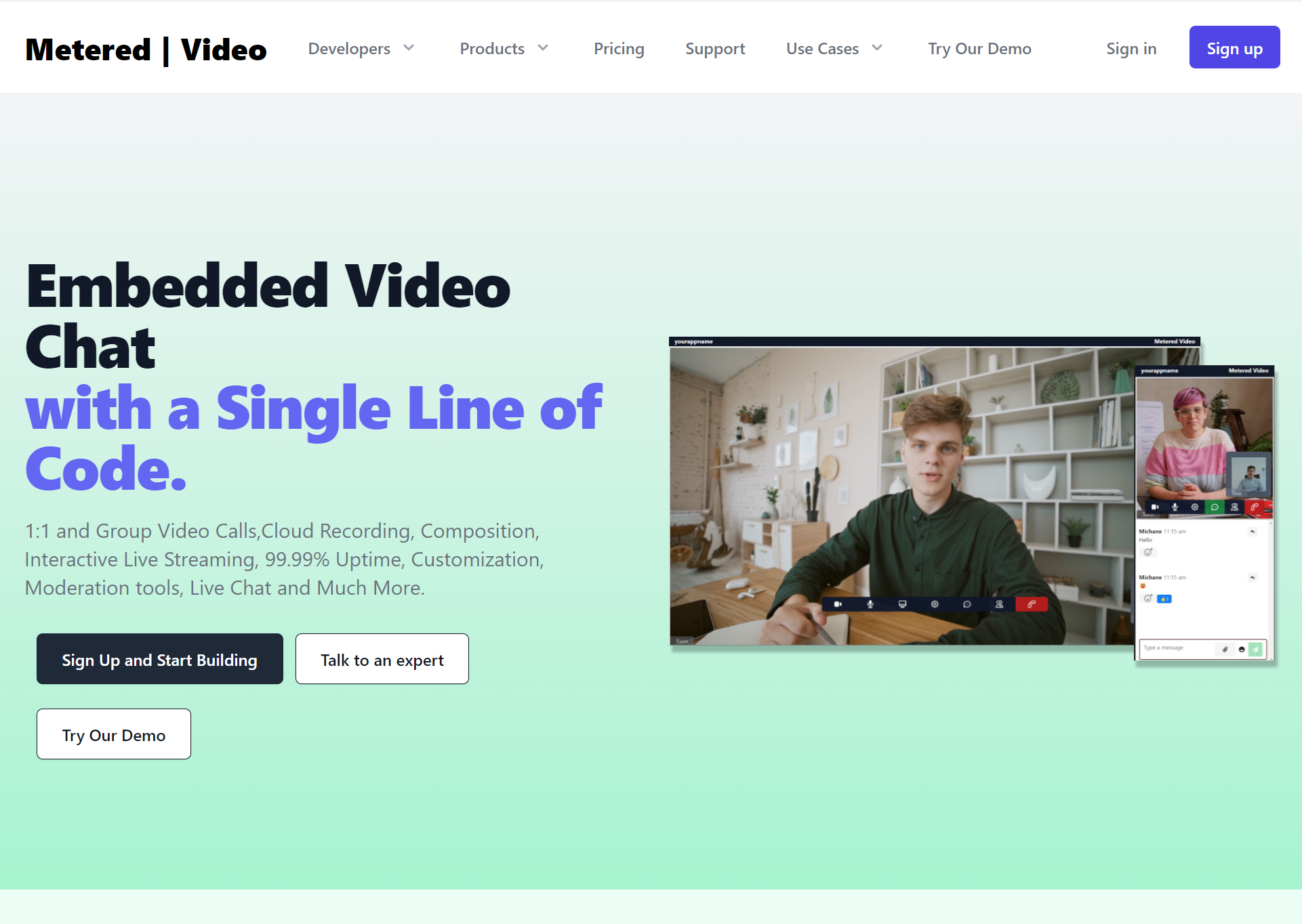 Pricing: Pay as you GO. $30 USD credit on Sign Up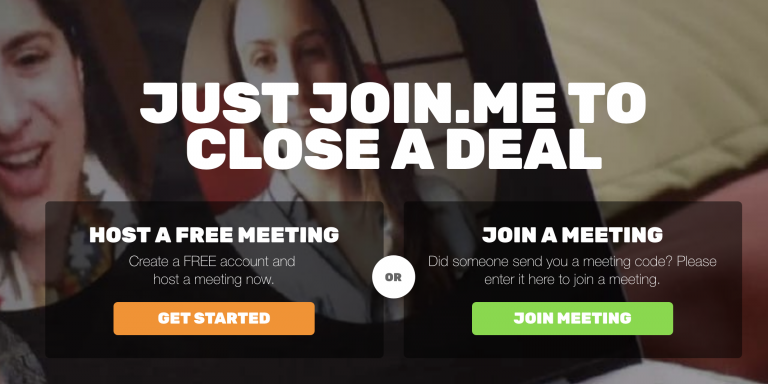 JoinMe
JoinMe is another good screen sharing solution. It is also quite easy to use.  JoinMe provides free usage of up to 3 participants in a meeting. There are paid plans also available if you want to increase the number of participants plus ads.
JoinMe using java to do screen sharing and audio conference, which is quite an old technology and requires you to download its software which runs a Java applet in your system that slows down your computer over time.
Pricing: Freemium (Free for 3 participants with limited features)

Skype:
One of the oldest and most used audio calling and video calling solutions of all time is the Skype. Launched in 2011 it is still widely used.
Skype has a vast variety of features for free users as well as business users including Screen Sharing, telephone integration, ability to send SMS and calling international numbers.
One of the weak points of Skype is that you need to install Skype in your system and your attendees also need to have Skype install and have a Skype account to be able to conduct and participate in meeting
that is only Skype account holders and conduct meetings over Skype.
It is not a problem if you are doing meetings with friends and family or internal team meetings. But if you are doing a sales call or presentation then it becomes quite cumbersome to ask potential customers to create a skype account to be able to have a meeting.

Skype also has apps for iOS and Android devices plus integrates with Xbox as well
Pricing: Freemium. (Max participants for audio calls is 25 for video is 10)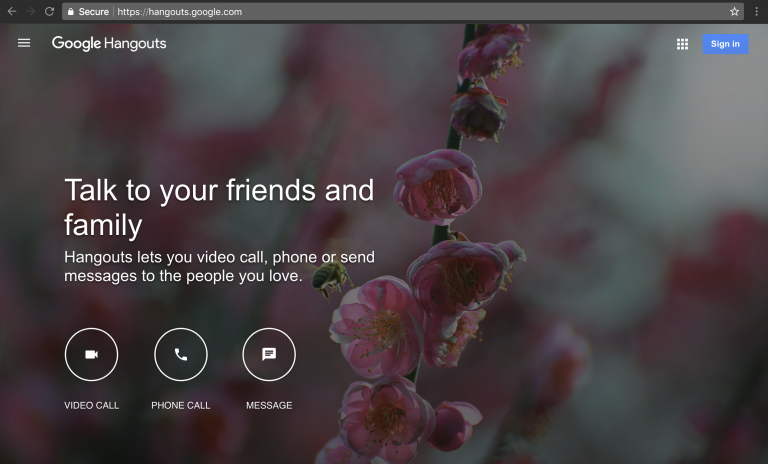 Google hangouts is the google answer to the audio and video conferencing problem. Google hangouts is awesome and also works out of the browser like Dead Simple Screen Sharing does. Only problem it only supports google chrome.
If you or your attendees are on any other browser, bad luck it does not work with other browsers plus you need to install plugins so as to do audio and video conferencing
Free plans are also limited to 10 participants per meetings and everyone is required to have a google account in order to participate in the meeting
If you are into google hangouts a much better alternative would be to just switch over to dead simple screen sharing. It has all the features plus more and works with Chrome, Firefox, Opera, Safari and some features even support Internet Explorer or Edge browser.
Google Hangouts have apps for iOS and Android device
Pricing: freemium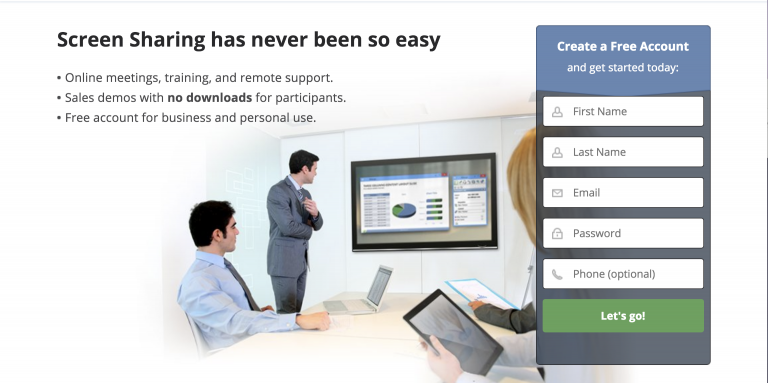 Mikogo
Another good screen sharing solution, Mikogo is from Germany and is run by a small team. Mikogo offers much of the same features as other but also requires you to. download its software so as to conduct meetings
Mikogo also offers a free account with only one participant per session, as the paid plans go it is expensive than Dead Simple Screen Sharing but cheaper than some of the others.
Mikogo has apps for Android and iOS.
Pricing: Freemium
Zoom
Zoom is a comprehensive suite of meeting solutions primarily aimed at the enterprise section of the marketplace. There are a lot of features in zoom focused on the large-scale enterprise clients. like zoom rooms and ability to connect SIP systems with zoom.
Zoom is primarily aimed at internal team meetings installation of zoom software is required to conduct meetings, in zoom, there is a limit of 40 minutes for free meetings but on paid plans, there are unlimited meetings available.
Apart from meetings, you can also host webinars. Pricing for webinars starts from $54.99 for 100 attendees.
Apart from meetings, you can also host webinars. Pricing for webinars starts from $54.99 for 100 attendees.
Pricing: freemium
Any Meeting:

Any meeting is also a good alternative for group meetings and screen sharing. Any meeting is available in two flavours
group meetings
webinars
Group meetings: Group meeting is for team meetings with plans starting at $18 per month and $180 per year. Any meeting is on the expensive side of the video calling spectrum.
Webinars:
In the Webinar offering you get webinar specific features like advice scheduling, upto six presenters, Audience reactions live polling audience Q&As etc.
Like others Any meetings also offer a free plan with upto 4 attendees and limited features like audio video conferencing  and chat
Slack:
Slack is a business chat application with advice features for audio and video conferencing. Slack is primarily for internal team meetings and offers free chat and one to one audio calls. But for feature like group audio, video and screen sharing there are paid plans available starting from $6 per month per team member
If you wish to conduct free screen sharing and audio video calls out of Slack there is an option available. Dead Simple Screen Sharing has a slack extension that you can get here: https://www.deadsimplescreensharing.com/slack-integrations.html
Just go to the site and install the extension and whenever you wish to screen share just type /screenshare on the chat box in Skype and start sharing.
GoToMeeting Free:
The popular solution GotoMeeting also offers a free plan with Web Audio, Screen Sharing and one Click meetings that works out of the Chrome browser.
GotoMeeting also offers professional screen sharing and conferencing solutions starting at $19 per month paid yearly with features like HD video and audio and more or less the same as others
Cisco WebEx:
Cisco Webex is the enterprise-focused solution that offers a suite of solutions for web meeting
Cisco has a variety of different flavours such as
WebEx meeting center
WebEx Event center
WebEx Training center
WebEx Support center
Webex assist services
Each is aimed at a different customer segments. For internal company meetings there is the webex meeting center. Which offers screen sharing and collaborative meeting rooms desktop integration, integrated audio and video conferencing, email invites and mobile apps to easily facilitate the meetings
Pricing: Freemium
So Here are the top 10 screen sharing software for 2017. Let me know what you think in the comment section below.
Thanks
---
Subscribe
Join the newsletter to get the latest updates.
---
---