In this article, we are going to learn about how to do screen sharing in chrome browser. A lot of people these days use google chrome as their primary browser and wouldn't it be awesome if you just start audio conferencing and screen sharing right from your browser without starting any software waiting for logging in and long startup times and fiddling with passcodes and IP addresses.
Well, we have the solution for you that is Dead Simple Screen Sharing.
Just go to https://deadsimplescreensharing.com and click on the getting started button as shown in the figure below.
It prompts you to install a chrome extension just install it and a button appears in your browser.
Whenever you wish to do audio conferencing and screen sharing just click on that button and start the session, just like that and if that isn't dead simple I don't know what is.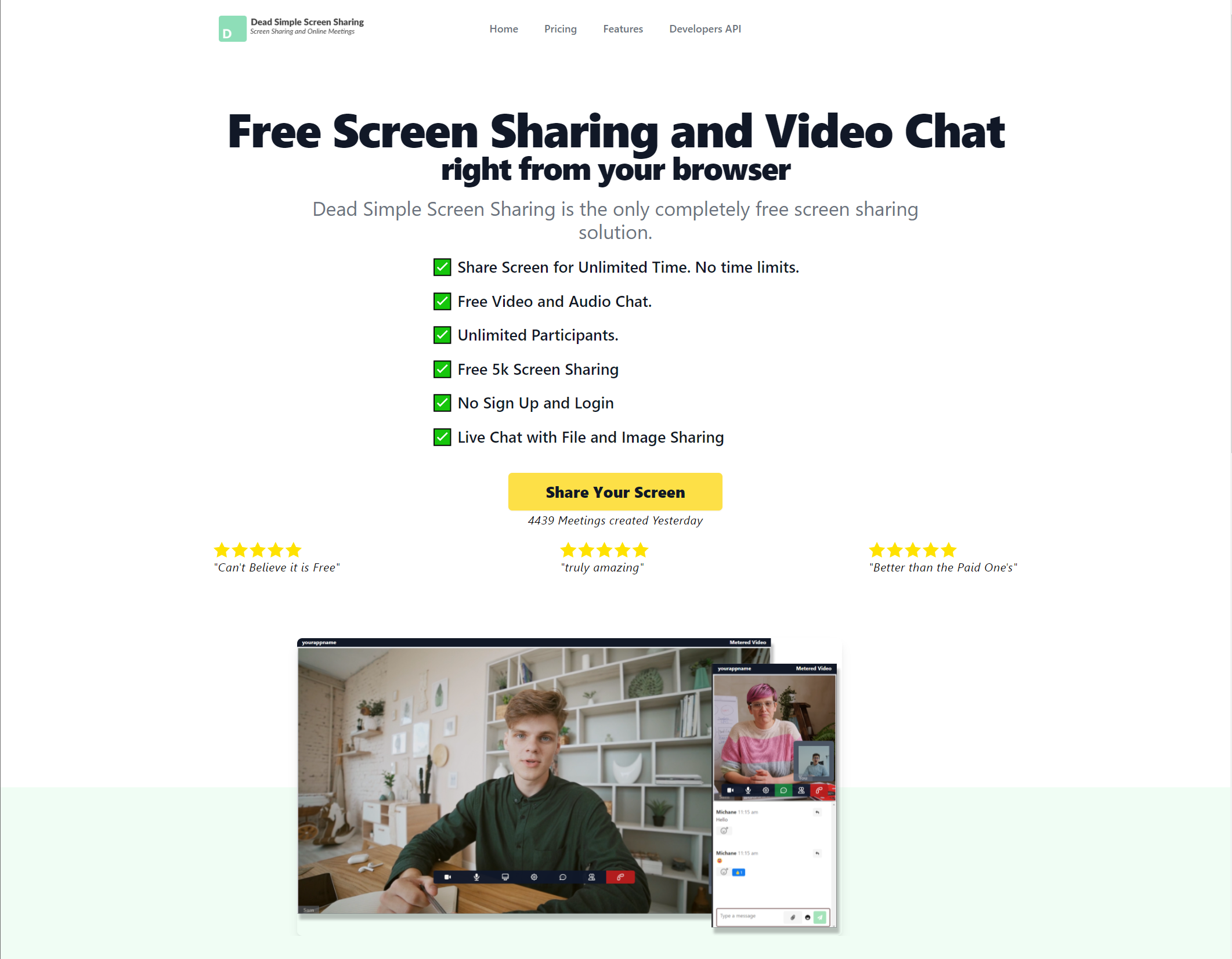 Features :
Simplicity
Screen Sharing
Audio Conferencing
Video Conferencing
Scheduling
Invite participants Via Email
Recording and Cloud storage
Security
Presenter switch
No Signup Required.
For Free for Real
Cutting Edge technology.
Works with Mobile devices
Simplicity:
Dead Simple as the word implies is very simple, User Experience has been based on years of research in human cognition. So, that anyone can perform screen sharing and audio conferencing as quickly and as easily as possible in a way that the software just disappears and it's just you and your work at hand.
From carefully selected fonts to the placement of buttons and aesthetically pleasant background colors every tiniest of the details have been thought of to give you the best experience possible.
Joining a meeting is also as simple as conducting one. Once you start a meeting you get a special meeting URL. Just give this URL to your meeting participants via Chat or Email or On the Phone and Once they visit the said URL they are in the meeting with you.
Screen Sharing:
You can obviously do screen sharing with dead simple screen sharing .com. You can choose either to share your full desktop or a single window to your attendees.
Screen Sharing technology used in Dead Simple Screen Sharing is cutting edge, it automatically recognizes the speed of internet connectivity as well as the processing power of your computer or mobile device and accordingly gives you the best mix of quality and speed for your device.
For example, if you have a very fast computing device as well as good internet connection you will get the native resolution but if you are on a mobile device with 2G connectivity you will get a lower resolution screen viewing experience. It will optimise the feed so that you get a smooth screen sharing experience but at a lower resolution.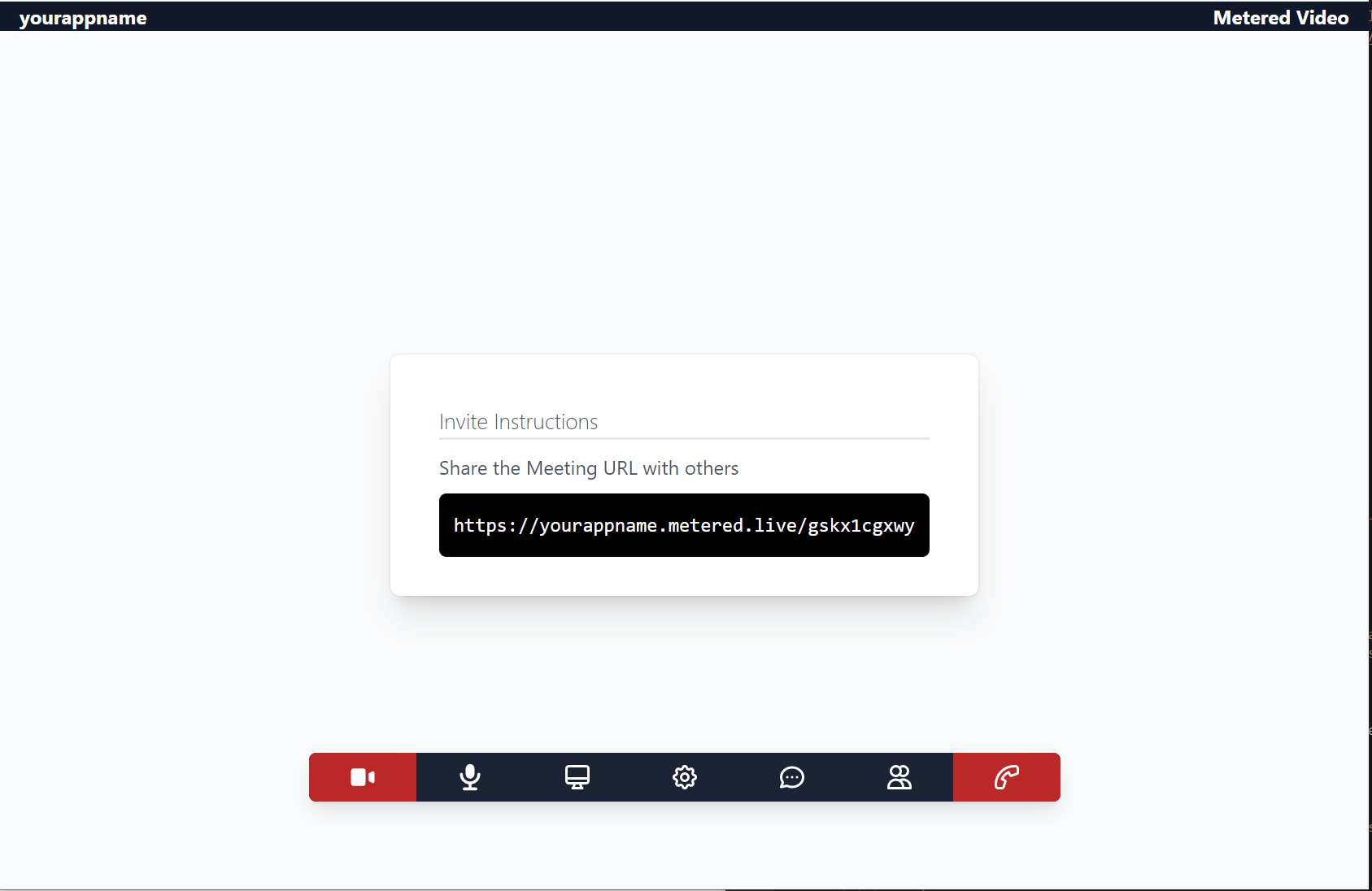 Video / Audio Conferencing:
With Dead Simple Screen Sharing, you can also conduct HD audio conferencing. When you start a meeting just click on the unmute mic button and start talking with your attendees.
You can see who is talking and the list of people in the meeting on the right-hand side box. Whenever someone is talking their name would light up as shown in the image below:
The quality of sound you hear is crystal clear and in High Definition,  even with slow internet speeds.
Scheduling:
With advanced scheduling and user management tools that come with the plus and pro plans of Dead Simple Screen Sharing, you can easily invite users in advance on a specific date and time.
You can schedule multiple meetings with different users at different dates and at different time periods and with every meeting available in a beautiful web interface.
Your scheduled invitees are all sent an email with the meeting URL and the time and date of the meeting
So, with everything set managing your meetings and conferences have never been so easy.
Invite Via Email:
Invite via email feature is available to both paid as well as free subscribers. Once you open Dead Simple Screen Sharing just type the recipients email in the box provided and press the sent button.
Dead Simple Screen Sharing sents them an email with your meeting URL and when they go to the URL they are added in the meeting
A simple image of how this works is given below: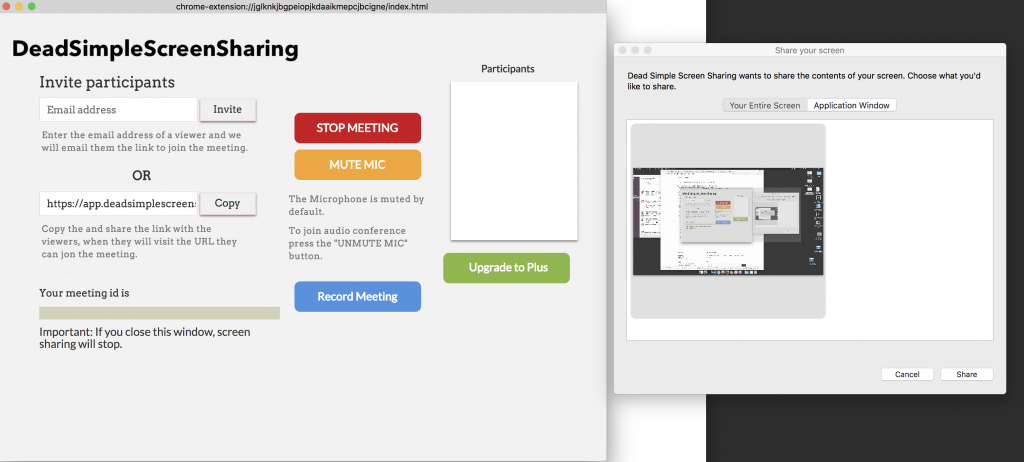 Recording and Cloud Storage:
With Metered Video you can also record your meetings and store them in the cloud for easy access. With up-to 5GB of storage with plus plans and 50GB storage for pro plans, there is plenty for everyone.
You can also easily share recorded meetings with your clients, colleagues or boss for an easy reference.
Security:
All the communications in Dead Simple Screen Sharing is AES 256 bit encrypted that the same amount of security banks use to store and transfer your money digitally.
And with end-to-end encryption, Dead Simple Screen Sharing also helps with being HIPAA compliant. So, if you are a medical practitioner with access to pertinent patient information you can easily use Dead Simple Screen Sharing to communicate with patients regarding their health requirements.
Along with this the paid plans of Dead Simple Screen Sharing also offers advance scheduling and user management features and dashboard. So that the administrator and control who sees what and hierarchical access to employees keep information safe.
Presenter Switch:
When you are talking to your colleagues or customers/Clients sometimes you need to give them control or wish they could share their screen with you without restarting the meeting. Well with Dead Simple Screen Sharing you can do it with the press of a button using the presenter switch button.
To do this just start your meeting, and when you need to switch the presenter just press the button and select the user to whom you wish to transfer the control from the right-hand side panel, that's it.
No Signup Required:
In Dead Simple Screen Sharing if you wish to conduct free meetings you don't even need to create an account. No need to give us your email and no need to remember passwords and usernames.
Just click on our button and start the meeting We truly are Dead Simple.
For Free for Real:
Unlike others offering screen sharing and audio conferencing services, Dead Simple Screen Sharing is truly free. We do not offer ads nor will we ever disrupt our audiences with ads.
Cutting Edge Technology:
We have made Dead Simple Screen Sharing with the help of the latest and best technology available. We are compatible with almost all browsers including
Safari
Chrome
FireFox
Opera
Microsoft Edge Browser
Other ways to share your screen on Google Chrome.
Works with Mobile devices:
Dead Simple Screen Sharing works with mobile devices right out of the box whether you have Android or iOS, phones or tablets Dead Simple Screen Sharing supports anything and everything with a web browser.
Even old Nokia phones with a web browser will work fine with Dead Simple Screen Sharing.
So Now you don't have to worry what device/ OS / Phone or computer your customer has. If they have a web browser you can screen share to them. ain't that awesome.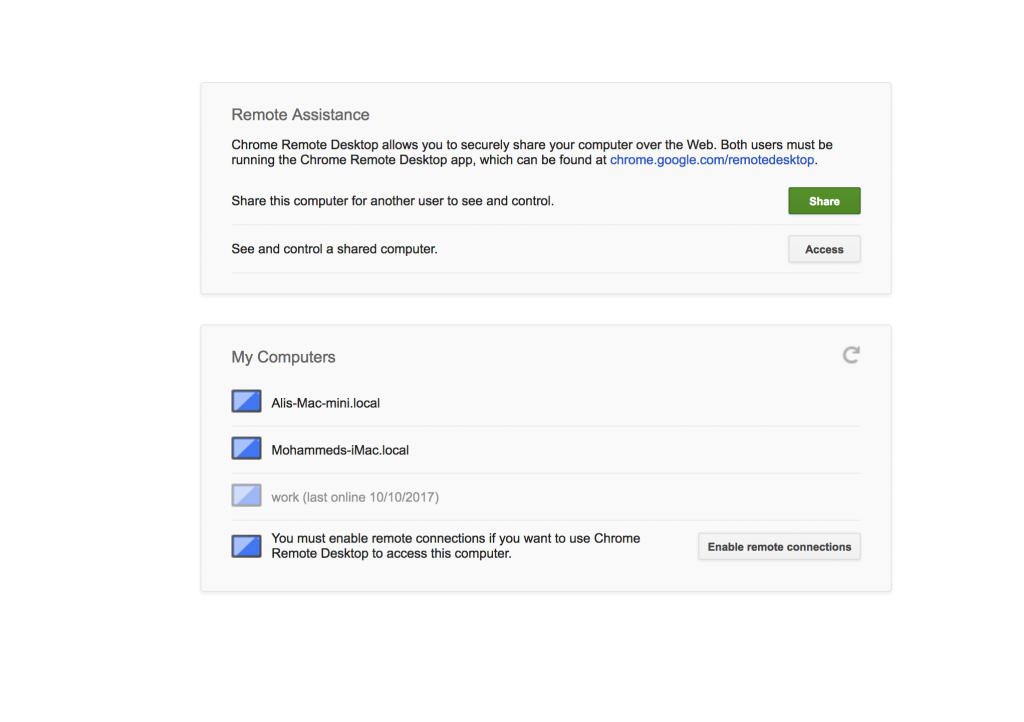 Chrome Remote Desktop:
Another solution that works right out of Google Chrome is Chrome Remote Desktop.
Chrome remote desktop is a bit complicated to use but offers a lot of functionality that you may or may not need. It lets you control your computer remotely. Definitely not a solution for online meetings but I will give you an overview of it below:
How to beam your computer:
You can download the chrome remote desktop from the chrome app store it opens as a desktop app on your computer
Once you launch it you need to configure your computer so that it could be controlled remotely. Just click on the "enable remote connections" button and follow the process to install the chrome host installer.
Once you have done that and a bit of simple configuration your computer is now ready to be beam through the internet or on your local area network.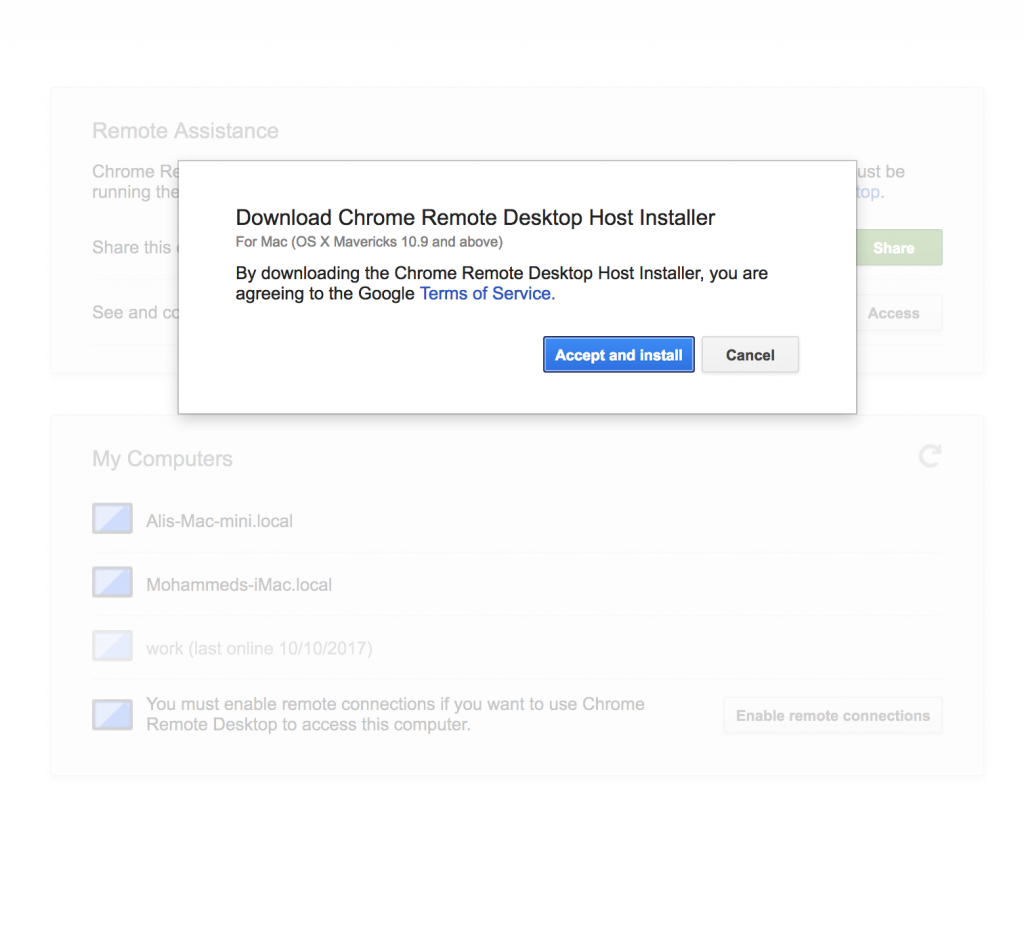 How to View a Remote Computer:
Now on your computer from which you need to access the remote computer, you need to install chrome remote desktop again from the chrome app store and then login with your Google account and you should be able to view your remote computer or computers.
Select the computer from the list and enter the passcode and you will be able to see the screen and control the screen. Just refer to the image below:
Chrome Remote Desktop is good if you have multiple computers in multiple places and you need to access them remotely.
Chrome remote desktop is also useful for IT customer support, things like configuring software for your customer or in the IT department of a company to remotely install software in all the computers of a company by the IT guys and things like.
Chrome remote desktop works with Mac, Windows and Linux also has apps for iPhone, iPad and Android devices.
So, Here goes this is how you do screen sharing on the Chrome Browser. Let me know what you think in the comments below.
This article is written by Ali Asgher Lakkadshaw. He works for Dead Simple Screen Sharing .com Here a link for you:  https://www.deadsimplescreensharing.com
---
Subscribe
Join the newsletter to get the latest updates.
---
---