Skype is a good tool for communication, and it is used by millions of people for audio, video, IM and screen share. It has its advantages and disadvantages. There are other alternatives also available for Skype. Each software application or tool is made for a particular use case and audiences. It might so happen that Skype might not be the best tool for your use case.
So here are the best software alternatives to skype so that you can compare and choose what's best for you.
Google Hangouts
Dead Simple Screen Sharing
WhatsApp
Viber
Facetime
Telegram
Discord
Slack
Join.me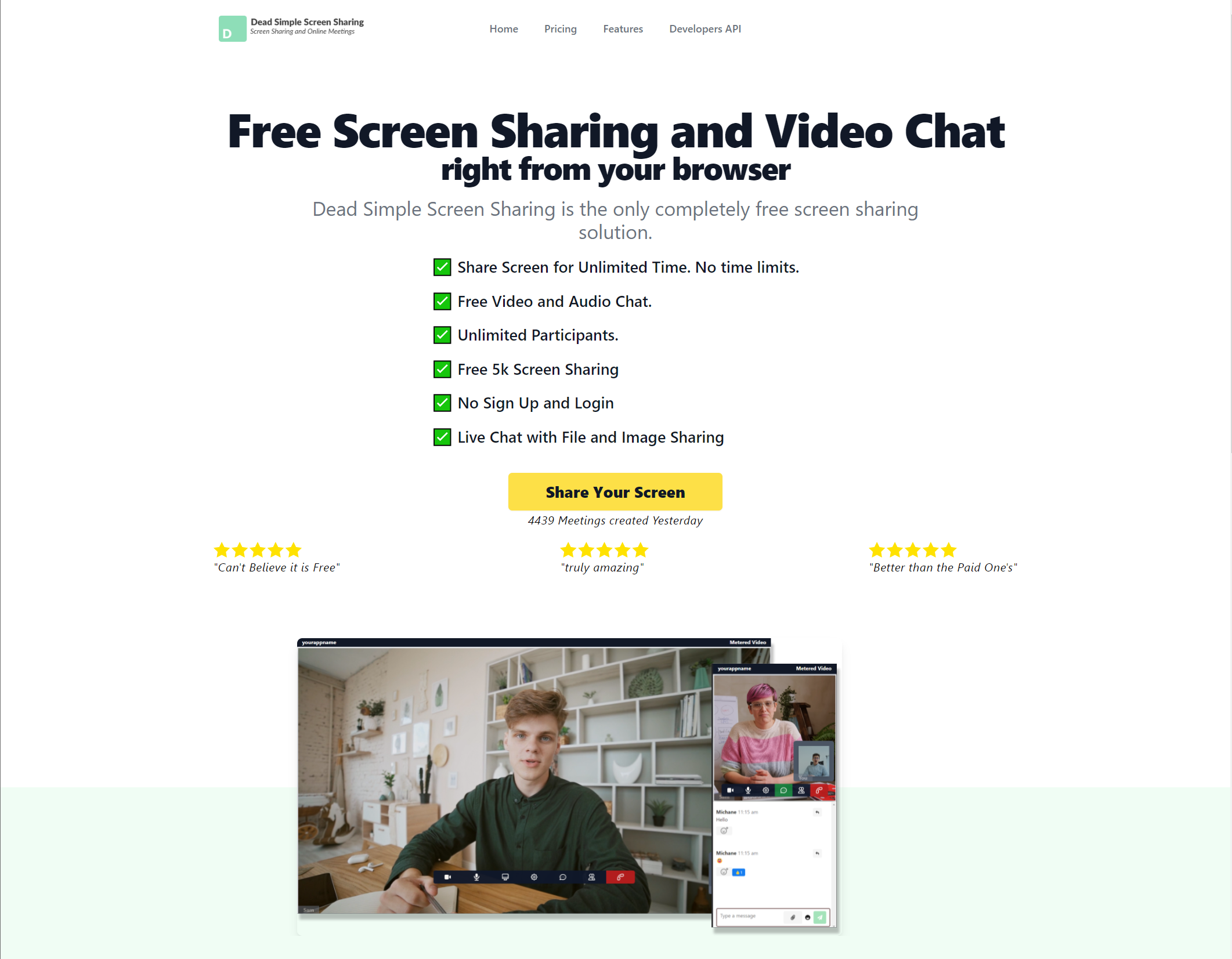 Dead Simple Screen Sharing:
As the name says Dead Simple Screen Sharing is well Dead Simple. With nifty features like Audio calling, Screen Share and presenter switch all done from the comfort of your browser.
No need to install pesky plugins or any software for that matter just go to the website https://deadsimplescreensharing.com and start sharing your screen or voice calling
Almost all browsers are supported including Safari, Chrome and Firefox. Plus you don't even have to create an account or Sign Up just go to the site and click on the "Click here to get started" viola you are on your way to screen sharing and online meeting goodness.
Dead Simple Screen Sharing also has slack integration so you can just type /screenshare and start screen sharing with your colleagues
Advanced features like
Recording the meetings
Scheduling the meetings
Inviting participants in advance through email
50 Gb of cloud storage and
Many more
Are also available through paid plans starting $9/mo paid monthly.
Pros:
Very easy to use.
No install required
Works on mobile devices
No need to create an account Signup
Awesome support
Many advanced features available
Uses next-generation technology for High-quality HD Screen Sharing and Voice calling
Works with almost every browser
Cons:
No chat or IM available yet. (Coming Soon).
Lacks Video Calling
Opinion: Dead Simple Screen Sharing is a good solution for small as well as large businesses. It is easy to use and works every time across browsers and operating systems.
Is ideal for office communication as well as meeting with a potential client or customer. You can just share a link with your customer or client via email or IM or any way you prefer and once they click on that link they are in your meeting
There are awesome scheduling and recording features also available with Dead Simple Screen Sharing. You can record your office meeting with your client and view it again at a later point in time or send it to someone else.
It is easy to use for both the presenter as well as the attendee and works great every-time you use it.
Pricing: Freemium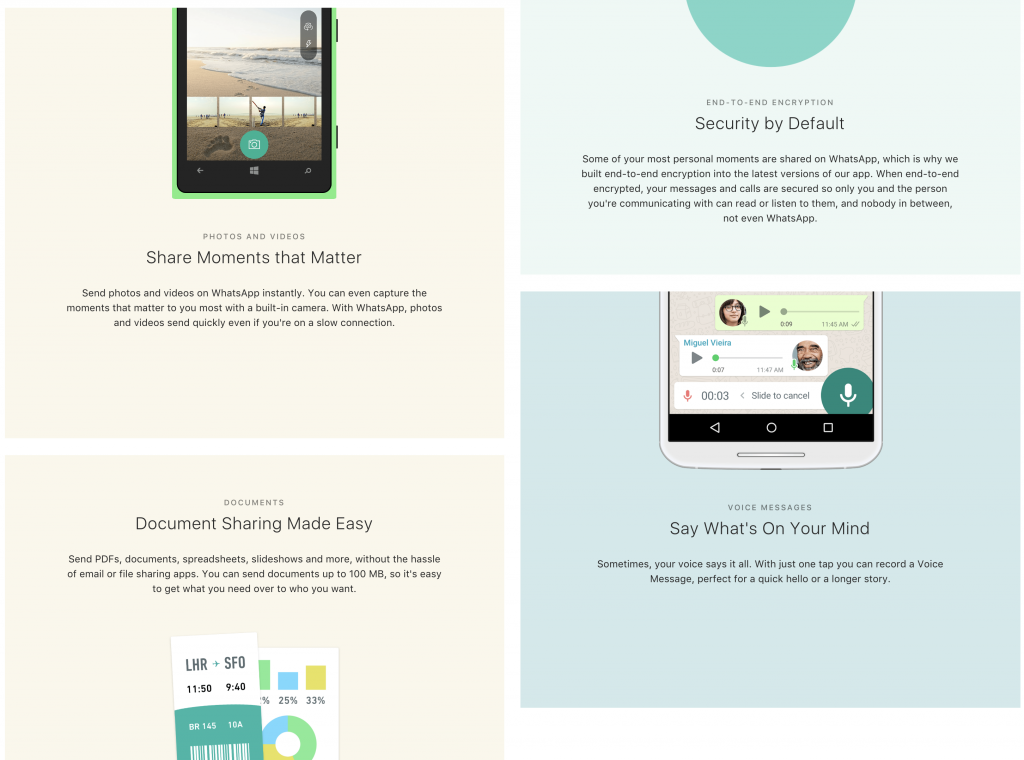 WhatsApp
Whatsapp is a Mobile application that lets you chat plus do audio and video calls. There is a web version also available, but you need to have your mobile with you to be able to use Whatsapp.
It is basically a mobile-centered application you don't need to create an account, in this app your mobile number is your unique identifier and it automatically takes your contacts and checks if they are on WhatsApp or not and those who are on WhatsApp are can be easily contacted with WhatsApp application. In this application, both the presenter and the attendee needs to be on Whatsapp
Pros:
Easy to use application through mobile
Good for keeping in contact with friends and family
Additional features like status and stories
Cons:
You need to have your mobile to use WhatsApp.
Apart from audio video and chat no other features like screen sharing recording etc
Application focus is for personal use
No group calling is available only one to one audio and video calls
You can contact only those people who have WhatsApp on their mobile and are on your contact list.
Opinion: Whatsapp is good for personal communication and that is what it is made for. Keep up with your friends and family, easily create group chats and call your loved ones from your phone wherever you are.
It is not meant for business purposes because of the inherent informal nature of the application as well as lack of critical features for business meetings.
Though, many solopreneurs use it to conduct meetings with their clients or customers.
Pricing: Free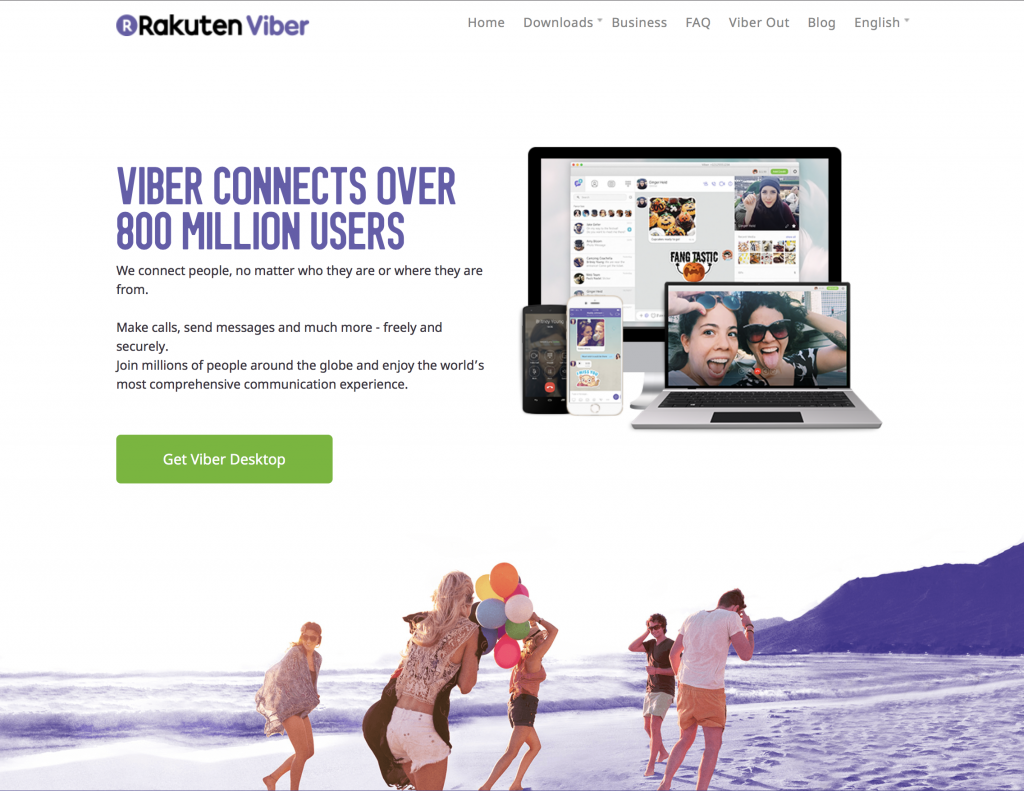 Viber
Viber is a free audio video conferencing tool for both business and personal communication. It comes with apps for Windows, Mac and Linux along with mobile apps for iOS, Android and Windows phone.
It is an easy to use app similar to whatsapp with additional features for businesses like :
Ability to call people that do not have viber app for a fee
Business chat for customer support and engagements ( Customers can contact businesses with Viber public account and talk or chat with a customer support executive).
Viber ads are also available so that businesses can advertise on the VIber network.
Pro:
Support for all the operating systems, Desktop as well as mobile apps are available
Easy to use
Ability to call non viber users
Stickers and many customizable options available
Cons:
Has ads
Does not have business centric features like screen share recording etc
No group calling feature available
Opinion:
Viber is a good option for personal calling and messaging purposes, it is a good alternative to whatsapp with additional features like support for desktops and games etc. But downside is the presence of ads.
Pricing : Free with ads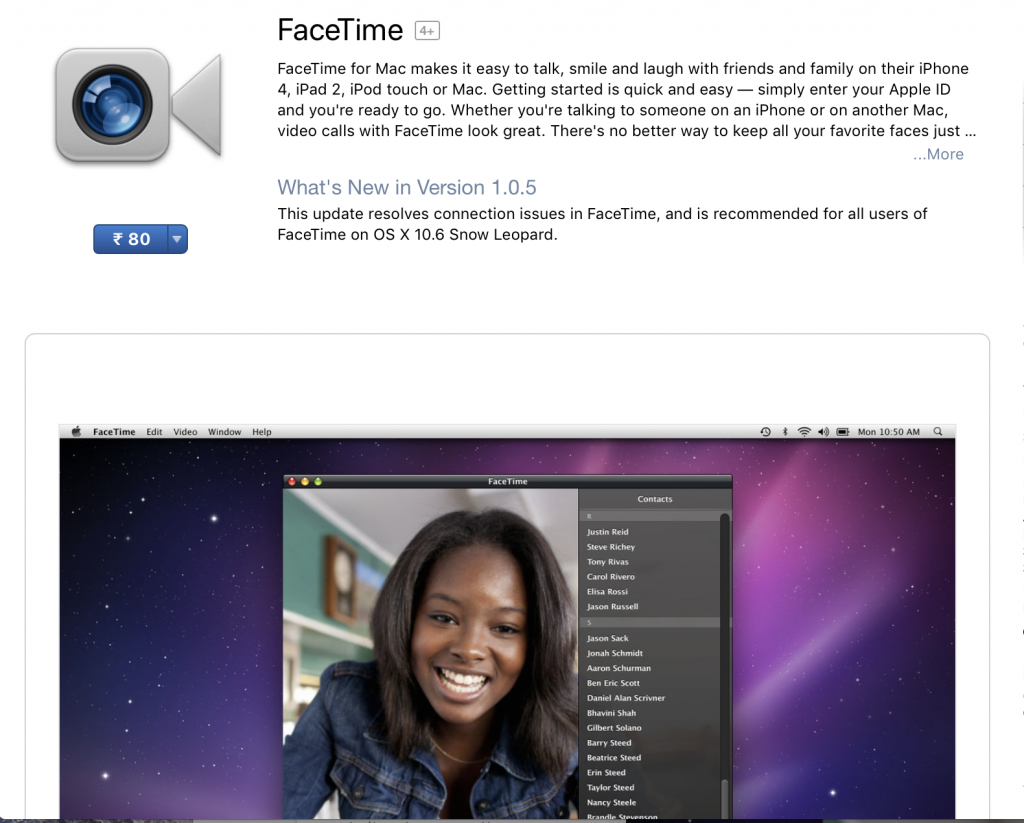 Facetime
Facetime is a good alternative if you want to do video calls on iOS or Mac devices. It comes bundled with iOS and Mac OS. It is easy to use and free for all apple users. But it lacks many of the features present in other products mentioned above like: chat audio calling group calling etc.
You can only do video calls and that oo only with other apple compatible devices that is a major drawback of this application.
It is only for personal use and not for business.
Pro:
Easy to use
Comes bundled with apple devices
Integrated with the apple eco system
Cons:
Works only with apple products
You can do only video calling and no other feature is available
You can contact people only in your contact list.
Opinion:
Facetime is a good product for video calling but there are major disadvantages to it. It is basically for personal use, that is if everyone in your family uses apple products
Pricing : Comes bundled with new apple devices.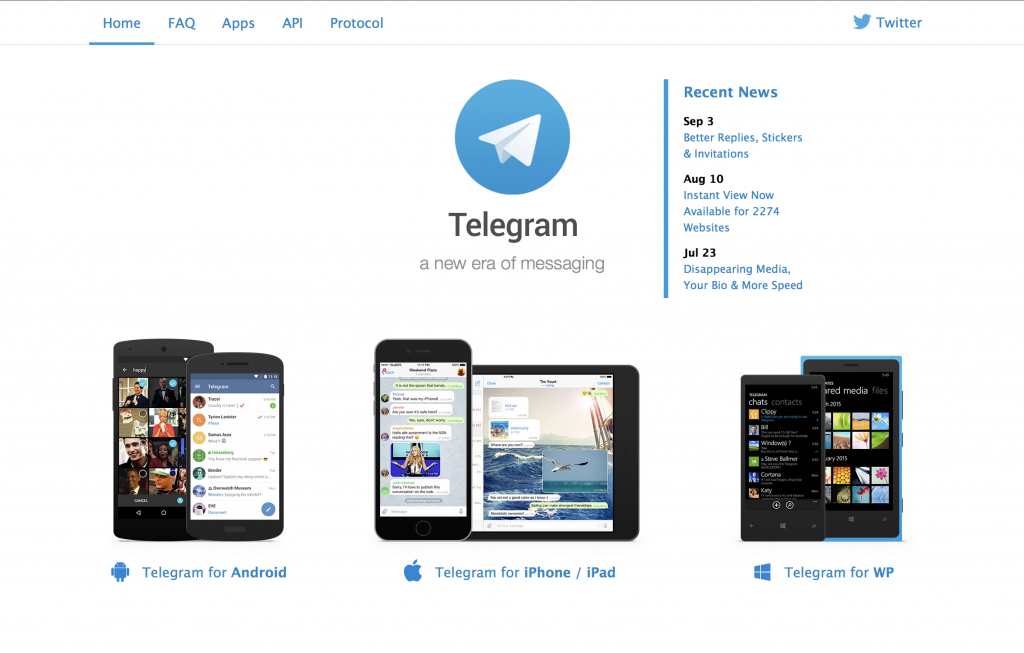 Telegram
Telegram is a chat application focused on security, it's available for all the platforms and is easy to use. You can send messages and conduct audio calls with telegram.
In an age of NSA spying if you need an open source and secure alternative to send and receive your messages Telegram would be it.
Telegram is not as polished as some of the other alternatives but supports all the platforms desktops (Windows Mac Linux) and Mobile (ios Android and Windows)
Pro:
Focused on security
Supports all platforms
Open source
Cons:
Plain vanilla design
Lacks business features like screen sharing and video calling
Opinion:
Telegram is a good app if you are security conscious not that others apps on the list are not secure or encrypted. Telegram is just one of those apps that are built with security in mind from the ground up plus it's open source meaning you can checkout the source code and learn what it's doing with your data a luxury which is not afforded by any of the apps on the list.
So, if you have security in mind Telegram is the app for you
Pricing: Free and Open Source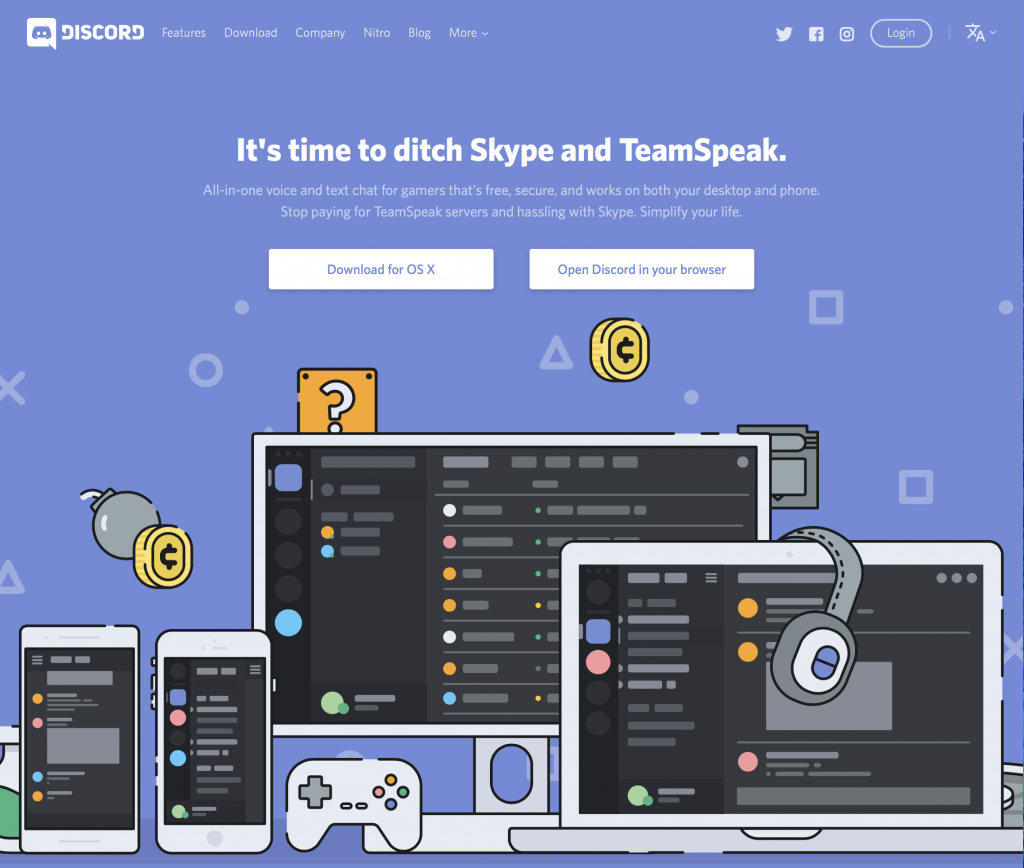 Discord:
Discord is the chat application for gamers, IF you use skype while playing games you might consider switching to discord. With dedicated apps for windows and mac osx as well as browser based apps for voice chat as well as written chat.
Pros:
Focused towards gamers. Cool features specifically tailored towards gamers like low cpu usage etc.
Ability to create as many chat rooms and servers as you want
Cons:
Not much of use for other purposes besides gaming
Pricing: Freemium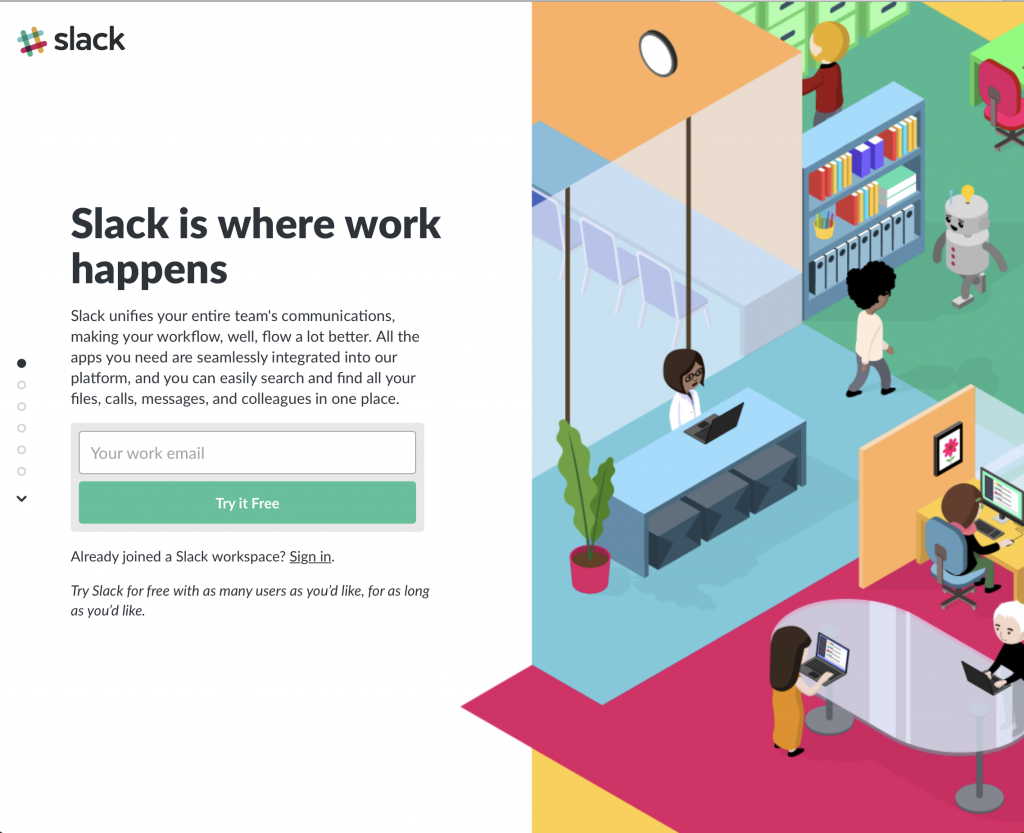 Slack:
Slack is another skype alternative focused purely on chat for teams and chat happening inside organisations. WIth added features like voice and video calls, screen sharing etc.
It's a freemium app with limited features for the free version, Only chat is supported in the free version that too with storage for the latest 10000 messages only.
If you only want to use Slack as a free version there are other options also available that offer on par or better functionality.
Alternatives like flock and hipchat could also be considered.
Pros:
Focused on enterprise chat
Business features like screen sharing audio video calls
Easy to use
Cons:
Not good for communication outside the company with clients or customers
Price increases exponentially with number of users.
Opinion:
Slack is a great enterprise chat tool, but now others have also come up with me too products that offer cheaper alternative or compete with better features for the same pricing e.g.:-
Flock, Hip Chat, Stride
Pricing :
Freemium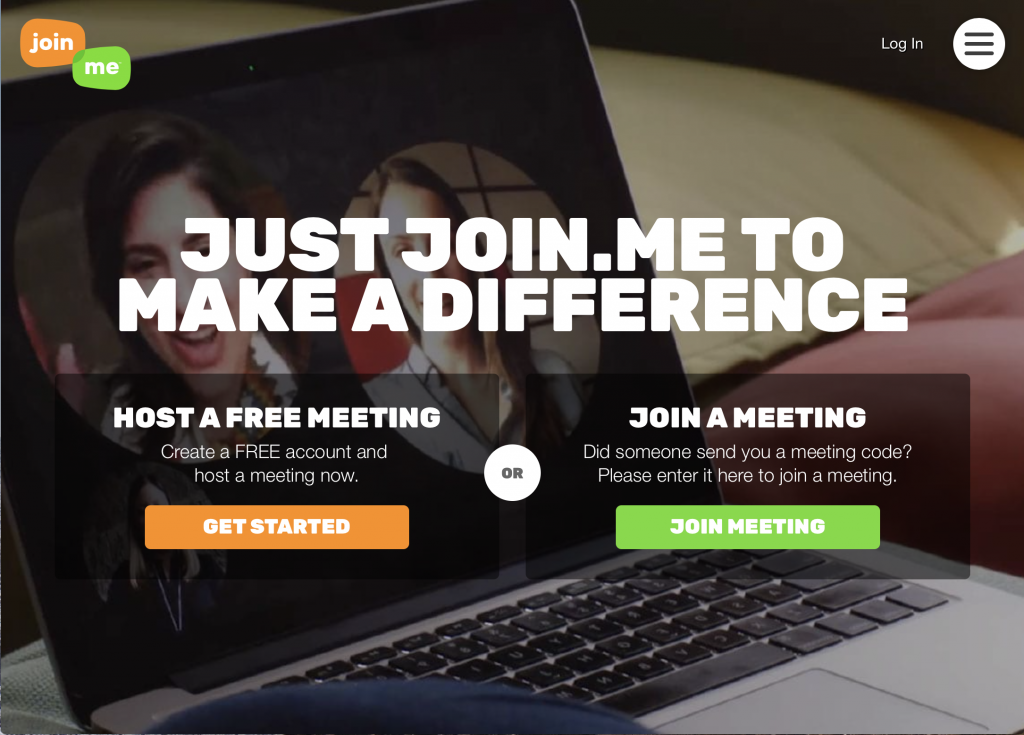 Join.me:
Joinme is a communication tool that is suited for both internal as well as external communication. It's been around for ages and like skype it's plagued by its use of old technology
It has all the features you need like screen sharing voice and video calls etc but you need to install pesky java plugins to be able to use the functionality and the quality of screen sharing is not that great as compared to other alternatives like Dead Simple Screen Sharing.
It is a freemium product so you are able to use it with only 3 people at a time and it's quite expensive as well with no monthly plans available and the most economical plan starts at $216 per year with competitors like Dead Simple Screen Sharing starts at $9 per month paid monthly
Pros:
Full featured solution
Customer support is good
Cons:
Unreliable and does not support a lot of browsers
Expensive
Breaks down a lot with a lot of downtime.
Runs on old technology
Opinion:
Join me is a good solution but its showing its age. It is a full features solution but its use of old java technology is undoing some of its charm.
Pricing: Freemium
So, here is the list of some of the great Skype alternatives for 2017. Let me know what oyu think if it in  the comments below.
---
Subscribe
Join the newsletter to get the latest updates.
---
---