So, Here are some of the good GoToMeeting alternative that you can consider. Let me know what you think of them in the comments below.
GotoMeeting is a great tool for conducting meetings. It has many of the traditional features that companies require. But there are many alternatives available to suit a variety of needs and use cases.
In this article, we are going to go over what the alternatives are and what features they offer, plus go over pricing and what I consider to be my opinion regarding each one of them.
So, here goes,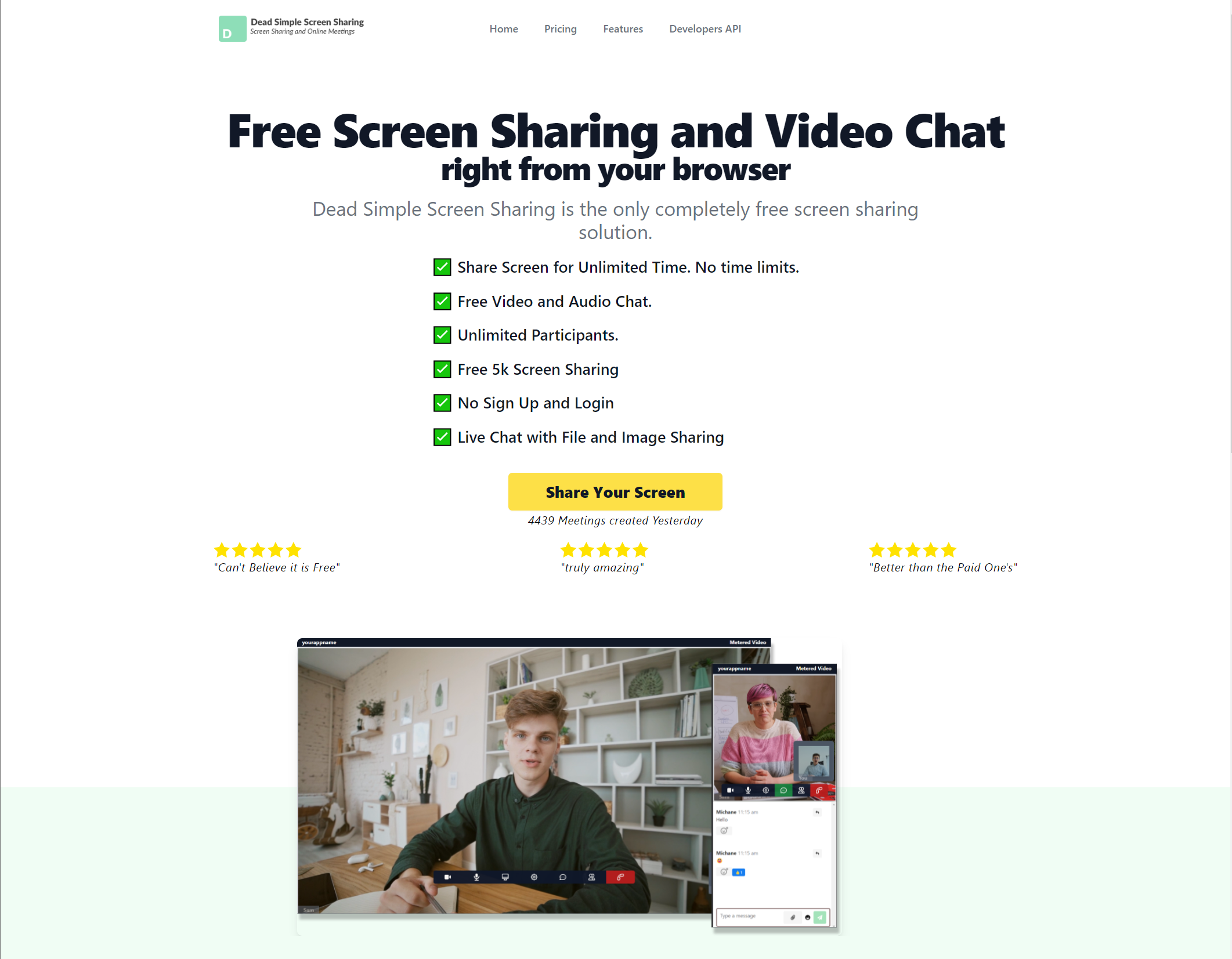 Dead Simple Screen Sharing .com as the name suggests is dead simple to use. It is a audio and video conferencing and screen sharing solution for teams as well as with clients and customers and friends and family.
It's the whole idea is to be as simple and easy to use as possible. For starters, you dont even need to create and account or download anything to start using it.
Just go to the website: Deadsimplescreensharing.com and there click on the get started button and voila you are on your way to your online meeting.
If you are on chorme ot will prompt you to add an extention but if you are on firefox you can start the meeting right away. So once you click the get started button if open up a new page with a meeting id you can copy this meeting id and send it to someone to start the meeting when they go to the link the meeting starts.
you can also just type in their emal address and dead simple screen sharing will send them an id on their email.
The quality of screen sharing and voice and video calls is HD (High Definition) you can hear crystal clear sound and video plus screen sharing even in low bandwidth situations.
My Opinion: If you need a simple solution for voice and video calls plus screen sharing that works every-time as compared to bloatware that hogs your computer's resources and has features you don't ever need then Dead Simple Screen Sharing is for you.
Price: Freemium Most of the features are free paid plans are starting from $9/mo paid monthly.
Cisco WebEx:
Cisco WebEx is great that is focused towards enterprise chat and video calls. In Cisco WebEx there are five different software packages aimed at different use cases namely:
WebEx Meeting Center
WebEx Event Center
WebEx Training Center
WebEx Support Center
WebEx Assist Services
The software package closest to Goto Meeting is the WebEx meeting center. Here are some of the features of Cisco WebEx meeting center:
Get the same address the always the same:
In Cisco WebEx, you get a web address (URL) that always remains the same so anyone who wants to contact you can go to the address at the scheduled time and meet with you online. The benefit is that you don't need to generate new URLs everytime you wish to conduct a meeting. That saves you a lot of time and effort.
Schedule or send a link at the time if the meeting:
With Cisco WebEx, you can schedule a meeting in advance with the web-based scheduler or just send them a link when the meeting starts via email or chat.
Ability to lock in the participants :
If you so wish the meeting participants can be limited to the people you have invited or you can allow anyone who clicks on the link to join the meeting.
So, it's up to you whether you want to keep the meeting private or let anyone who wishes join the meeting.
Document and Screen Sharing:
With Cisco WebEx, you can share your screen as well as share and annotate documents during a meeting. The presenter can also pass the control to any of the attendees and they can also share documents and applications with everyone.
Desktop Integration suite:
WebEx also integrates with Microsoft office/outlook lotus notes and a variety of other IM solutions.
A variety of integrated audio options:
With Cisco WebEx you get a variety of audio options you can choose a toll-free or toll, or call-in/call-back option, you can also connect over (VoIP) with your computer's built-in equipment.
Call-Me
Your meeting can call you at the scheduled time. Just put in your phone number and that of other attendees and at the scheduled time the meeting will call everyone and no one misses out plus no need to enter passcides and no dialing.
Meeting Playback and support with Recording
With Cisco WebEx, you can easily record your meetings and edit them or send them to anyone you wish to send.
My Opinion:
Cisco Webex is a great tool that is focused on enterprise remote meetings. That is it is good for the internal company meeting or meeting with groups of people and not focused towards one-to-one meetings and for small enterprises.
Pricing: Pricing is custom and you need to talk with Sales for that.
Join Me
Join me is another great alternative to GoToMeeting. While both are now owned by the same company that is LogMeIn. Both have a bit different approach in how they Go about online meetings
Here an overview of the features of JoinMe:
Audio conferencing with toll-free numbers:
Just like cisco webex join me also offers toll-free numbers to call from the USA and  50+ other countries and you can also use (VoIP) and with unique features like individual mute and ability to put on hold until everyone joins in Join Me seems like a Good alternative to GoToMeeting.
One Click Scheduling Features:. Join me also offers web-based online scheduler to schedule meetings. The scheduler also integrates with Outlook and Google Calendar.
Mobile Apps:
There are Mobile apps from Joinme for Apple as well as Android devices, for video calling but iOS apps lack a lot of functionality like Screen Sharing. Apps are also available for Amazon Fire tablet and other devices.
Presenter Swap and Screen Sharing:
Just like in Cisco WebEx you can also swap presenter in Joinme, and share your screen as well but you cannot share your mobile screen with Join me. The quality of screen share that you get is also not that great plus support for browsers is limited to firefox and chrome.
Whiteboard
You can also write stuff that is also visible to other participants on a whiteboard with join.me. This is quite a useful feature if you are a creative and shares your work with others on the internet. Others can also work with you simultaneously on the whiteboard in join.me.
My Opinion:
Joinme is a great tool for collaboration with lots of exciting features and a good alternative to GoToMeeting but browser support is bad. It only works great with FIrefox and Chrome other browsers it just crashes or some other problem appears. Screen Sharing quality is also not that great.
Price:
JoinMe is a freemium service there is a free account with limited functionality and limited use with only three participants and availability of some basic features, most of the features are locked for paid users.
Skype
Skype is a good alternative to GoToMeeting and has many features that GoToMeeting does not have Apart from the group audio and video calls some of the unique features of Skype are as follows
Skype number
Forward calls
video messages
ability to send SMS
ability to send files
contact me button
Skype Manager
Skype Translator
Skype to Go
Skype Number:
Skype Number is your personal number which anyone can call you can get a Skype number for up to 50 countries worldwide.
If you are doing business over the internet and you need a number from a foreign country that rings your skype account then skype number is for you skype charges a nominal fee for this but it is a good service if you need it.
Forward calls
If you are unable to receive skype calls for some reason you can set it up so  that if you are unable to receive your skype call it will ring up your mobile number and you can conduct your meeting easily.
Video Messages:
If someone is unavailable right now and you don't have the time to type up a message simply send then a recorded video message telling them whatever you need to say and they can view the message n their own leisure time
Ability to send SMS
Someone you are meeting isn't on skype but you have their number and you wish to send them some text. Whats better than good old SMS right.
Now, you have the ability to send them SMS with your SKype account.
Ability to send files:
Now you can also send files during a meeting right from your skype software just drag and drop the file in the meeting window and all the people who are at the meeting will get the file.
Contact Me Button:
Skype also gives you a contact me button which you can put it up in your website or app and if you visitor swishes to contact you they can simply press the skype contact button and ring you up directly.
Skype Manager
Skype manager is an account management tool that lets you create accounts at your home or at your workspace. With SKype Manager you can become an account manager and easily distribute accounts skype credits as well as features so that everyone can get the best out of SKype
Skype Translator
Want to chat or talk with someone who speaks another language skype can translate your text voice on the go. The Skype voice translator can work with 8 languages and the text translator works with 50 languages.
Skype to go:
With Skype to go, you can easily call an international phone number with low calling rates. You can also top up work account using easy payment solutions.
my opinion: Skype is a great altGoToMeeting GoToMeeting with additional features, it is certainly more capable and cheaper option  in some areas than GoToMeeting
Pricing:
Freemium.
---
Subscribe
Join the newsletter to get the latest updates.
---
---