How to do screen sharing on Skype ?
Screen sharing on Skype is pretty simple.
To start sharing your screen on skype you will need to create a Microsoft account.
To do that go to the https://www.skype.com and then on the top right hand side click on the sign in drop down button and then click on sign up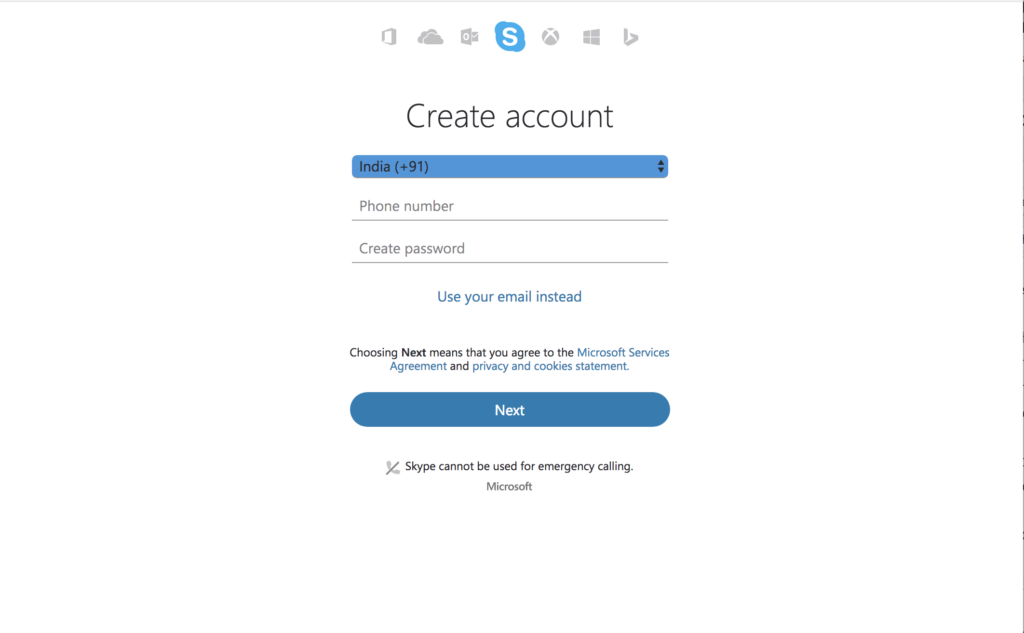 OR
Click on the Download button on the website. Download the skype and install it. After installing start the Skype app and you will come up with this page click on the Create one button next to No account text? as shown in the figure and you will be on your way to creating an account
You can create an account with your phone number or your email address or you can get an email address from outlook as well if you need one
Skype is available for the following operating systems
Windows
Mac and
Linux
You can download the Skype from official Microsoft website here: https://www.skype.com
Apart from screen sharing, you can also do:
Skype to Skype Calls
Group Video Calls
Instant Messaging
Call Phone numbers
To screen share you first need to call someone. It can either by a voice call or a video call.
To call some one you need to add them to your address book. You can do this by:
1 either sending them an invitation on their Skype ID. (You need to know the skype id of the person you are inviting). and they need to accept your invitation
2. You can receive an invitation from them on your skype id and you will have to accept it. (you will need to share your skype id with them beforehand).
Note: You can only share your screen with computers, you can view the screen on mobile devices but you cannot share your mobile screen with Skype.
The ability to share your mobile Screen (Android and iOS with others is available with Dead Simple Screen Sharing)
First, you need to start a call or a meeting. It can be either an audio call or a video call. You can do one to one calling or with a number of participants. You can call someone as shown in the figure below: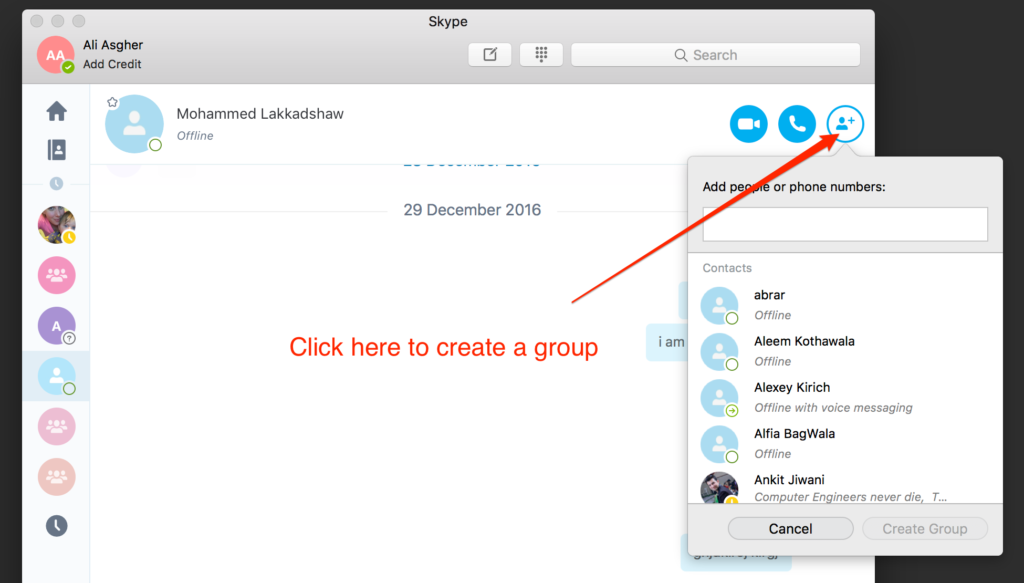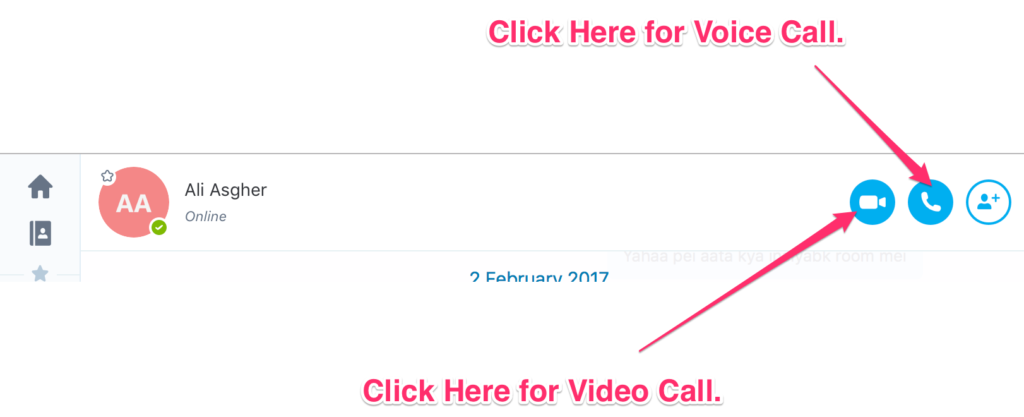 You can also start group calls if you wish to share your screen with multiple people, you can group call with upto 10 people on skype free plan
To start the group call first select a person then click on the top right-hand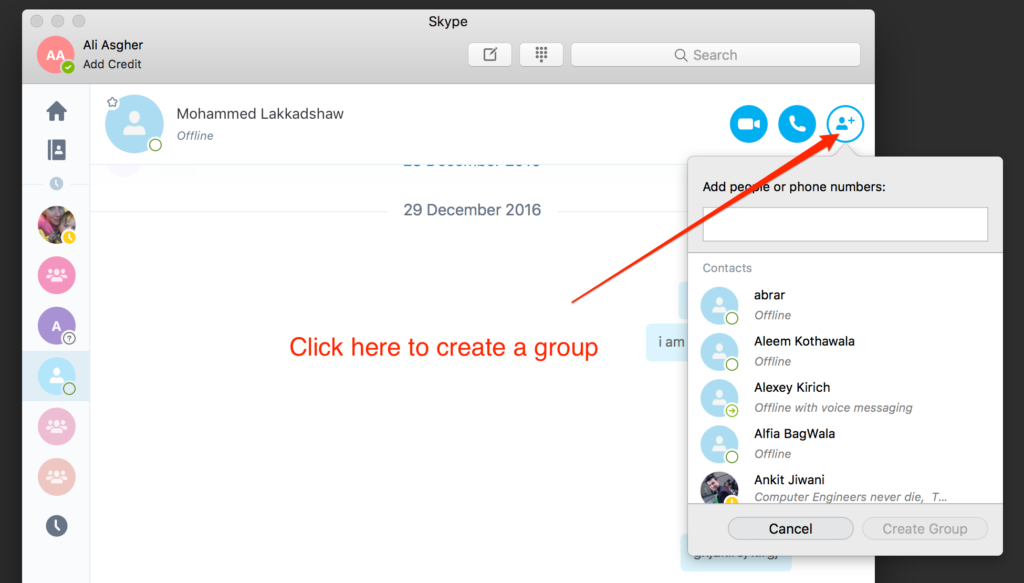 side corner button to add more people as shown in the figure below: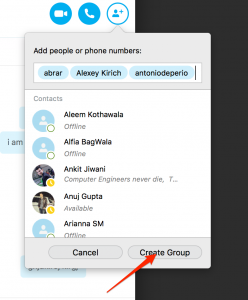 Once the call is connected, it will be shown as below: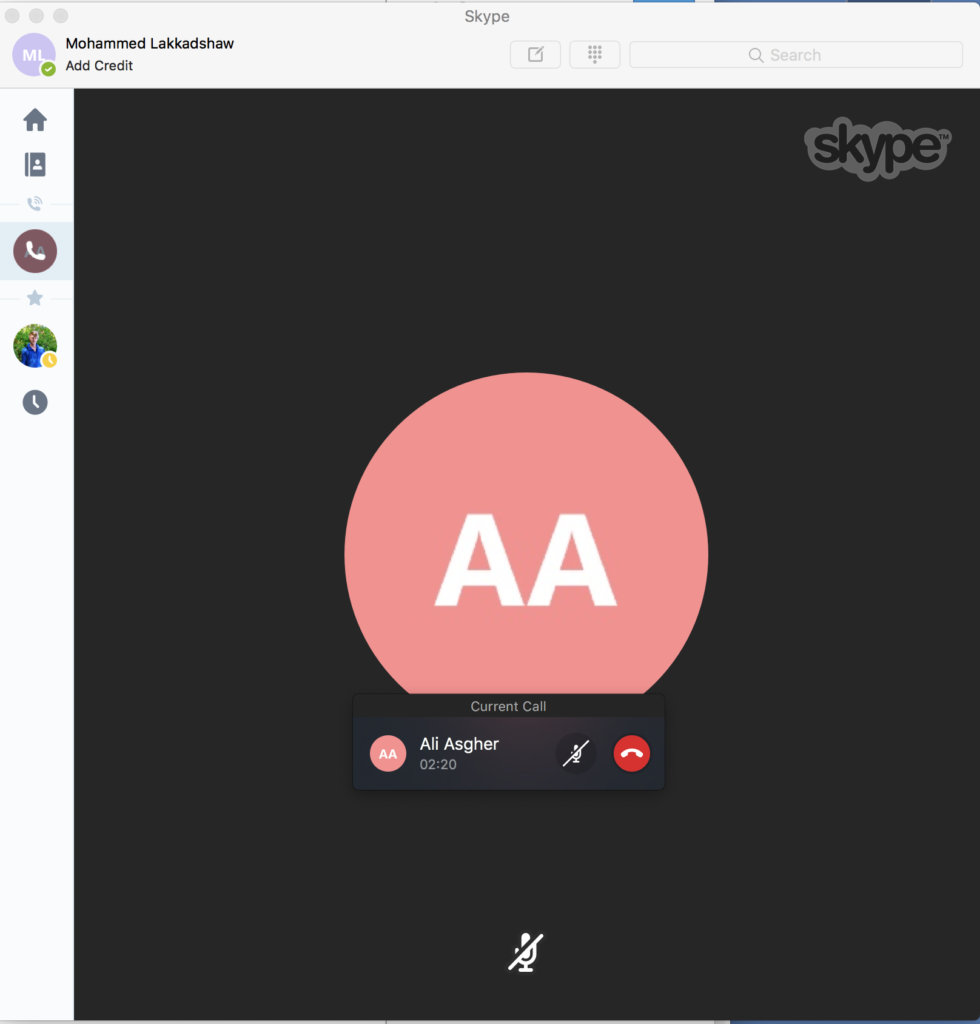 Then if you are on a Mac or Linux computer, On the top bar click on the Conversations button then click on the Share Screen Button as shown in the figure below: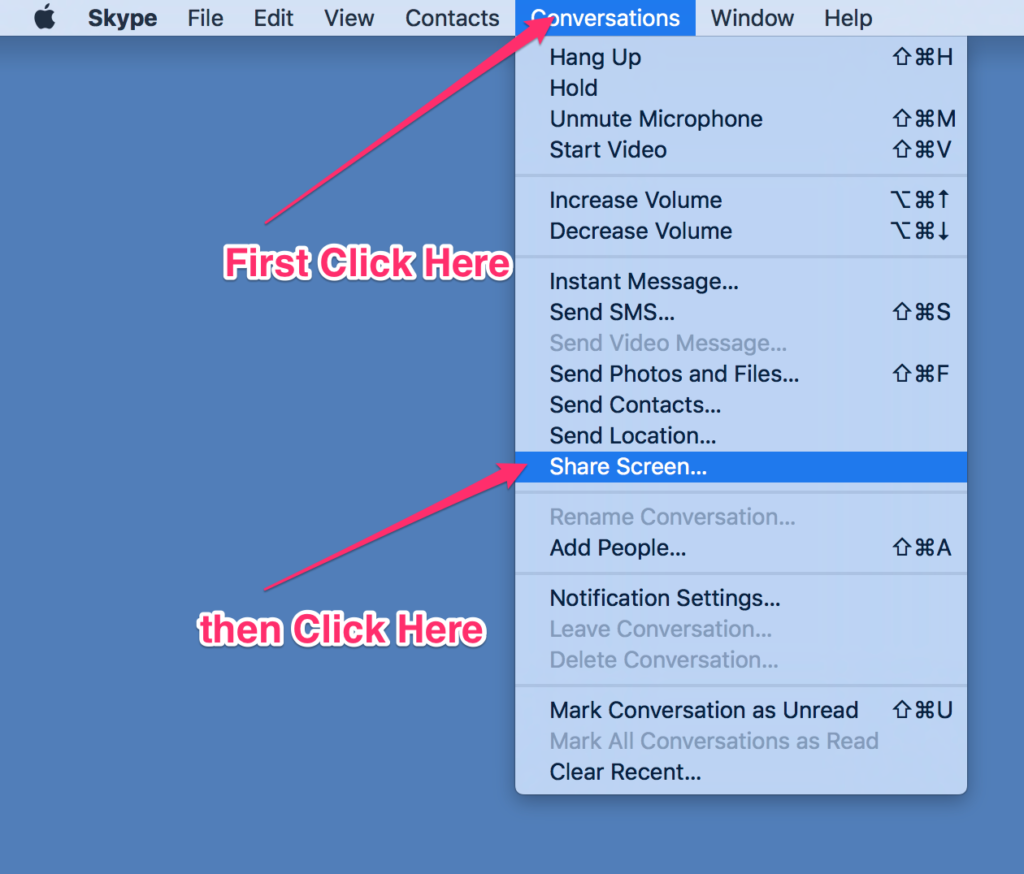 OR
Alternatively, you can also press the plus button on the Skype window and a popup will come up and there you can click the share screen button. Like this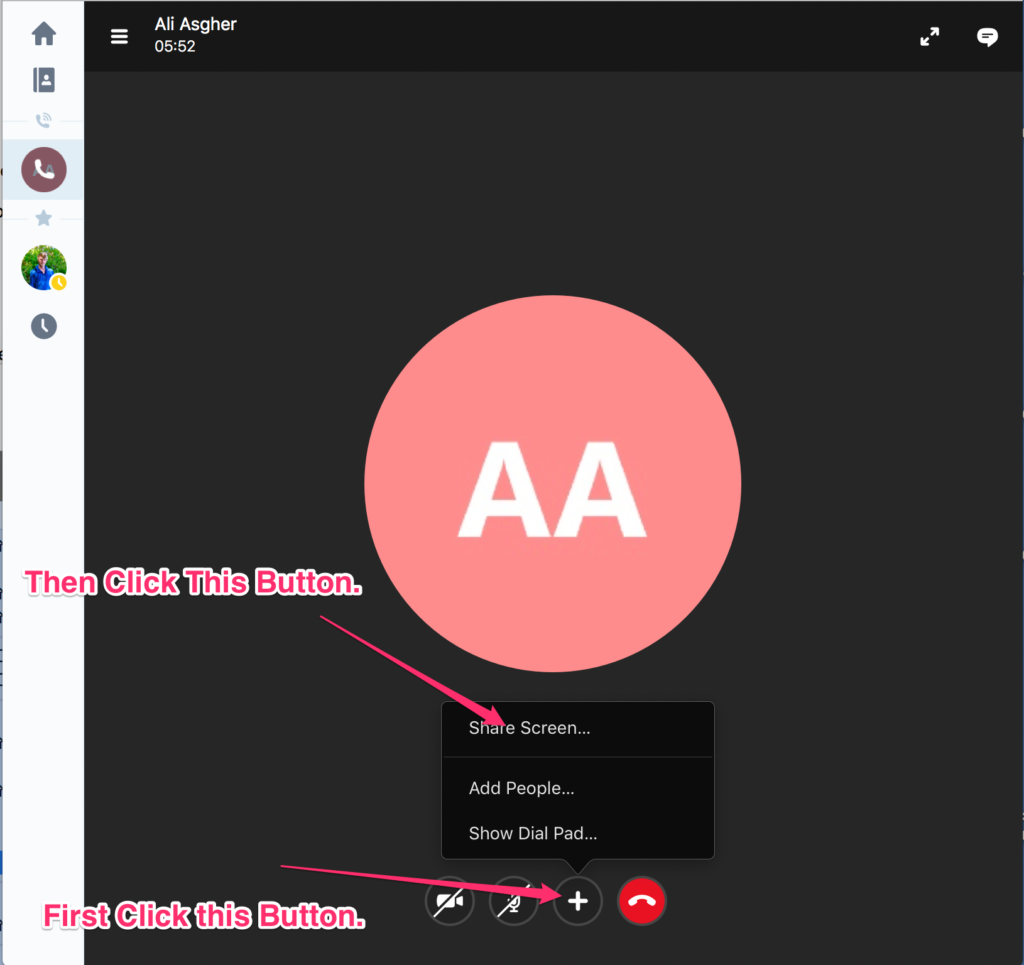 Both these methods work the same, After you click the  Share screen button, a popup will come up stating if you want to share the whole screen or just a tab. as shown in the VideoScreen Share skype below.
As you can see you can either share the whole screen or a window or tab of the screen. After selecting what you wish to share you can click the share button on the bottom right-hand side of the screen and start sharing your screen.
This is how the screen will look to the person you have
shared your screen with.
The whole process that is needed to share the screen on skype is given in the video below.
If you are having multiple monitors you can choose monitor screen to display.
To close the screen sharing session simple click the plus button again and then click on the stop screen sharing button. Alternatively, you can also close the call to stop sharing your screen.
You can use the free version of skype with upto 10 people after that you need to purchase a skype business plan to continue adding members to the meeting.
Pros of Skype Screen Sharing
Popular.
Skype is quite popular software, it is used a lot of people because it was released in 2003. It is one of the oldest running communication platforms in the industry.
Available in a lot of languages: Since Skype is so popular it is available in 108 languages around the world
Available for Mac Windows and Linux: Skype app is available for all the major operating systems.
Cons of Skype
Old tech:
Skype uses old-school technology to do screen sharing and VoIP, since it's been here for a long time it is difficult for it to switch. Newer companies like Dead SImple Screen Sharing use cutting-edge WebRTC technologies to do screen share and VoIP.
Need to install
To use Skype you need to install Skype app in your system, whether it is a desktop client or a Mobile app. Without installation, you cannot use Skype
Need to create Microsoft account.
To start screen sharing right away for new users is not that easy. You need a Microsoft account to start using Skype. It is understandable that some users might not want to create a Microsoft account but it is necessary to create one if you wish to use skype.
Participants Must also have Skype installed
Participants in your skype meeting must also have Skype installed, and you must know their skype name to start meeting.
This might get difficult if you are using Skype to give a sales presentation to your clients or customers. They might not have Skype installed, Even if they have you will have to take there skype id beforehand and invite them to add you to their address book just so you can sell them something.
And if they don't have skype. You will have to ask them to install skype create a Microsoft account and repeat the above process.
In Modern Screen Sharing web apps you don't need to install anything nor create an account to start screen sharing. Even your participants don't need to do anyhting.
D just create a shareable link just share it with your participants via a chat client, email or anyway you want and when they click on the link they join the meeting as simple as that.
No screen share on Mobile devices
One of the Major flaws of skype is that it doesnt let you share your mobile screen to anyone. Because it is built up on ols school tech it is incapable of doing that.
But with Newer tech Dead SImple Screen Sharing can share you Android and even iPhone and iPad running on iOS 11 screens in a SO share your Mobile execl sheets and presentations on the go and get the work done.
bloatware
Years of writing code on code to keep it up to the times have made skype a recorce hog and bloat to say the least.
It hangs the system in older laptops and computers and even in the newer systems. It is a battery and processor drain.
While on the other hand Dead Simple Screen Sharing is only a browser extension in chrome and on firefox you don't even need to install that.
You just need your web browser to conduct online meetings and screen sharing.
Bad UX
Skype involves a learning curve, its use function is not so apparent. this is one on the reasons I am writing this article. A lot of people have difficulty using basic functions of Skype like screen sharing. they only come up in certain scenarions and buttons are diffcult to find.
This problem isn't just with skype a lot of todays software solutions are built by engineers who assume users will automatically know how to use the products.
The user experience and how the user will intutively use the products are never even considered.
With Dead SImple Screen Sharing the User Experience is based on years of reasech and use cases to determine how the user experience will be so that there is almost no learing curve involved.
Privacy Concerns
In the 2013 Mass surveillance discloseues it was revealed that NSA and FBI have unfettered ability to evesdrop on skype calls and instant messages. The NSA even has full access to the datacenter supernodes.
Skype has scored 1 out of 7 points in the Electronic Frontier Foundation's secure messaging score card with 0 being the least score and 7 being the most secure.
On the other hand Dead Simple Screen Sharing has AES 256 bit encryption the same amount of security that banks have when they handle your money. Dead Simple Screen Sharing is completely secure.
Does not work on Chrome Books
Skype is not available for chrome books, but since dead simple screen sharing works out of the browser you can easily use it with chrome books.
An alternative method of sharing your screen.
If you wish to share your screen and do audio calls without installing any software, you can try DeadSimpleScreenSharing.com
DeadSimpleScreenSharing is free to use for anyone and works on any device PC Mac Linux even android and iOS mobile devices.
With a simple chrome extension, you can share your screen with anyone and do audio calls for free.
This article is written by Ali Asgher Lakkadshaw. He works for DeadSimpleScreenSharing.com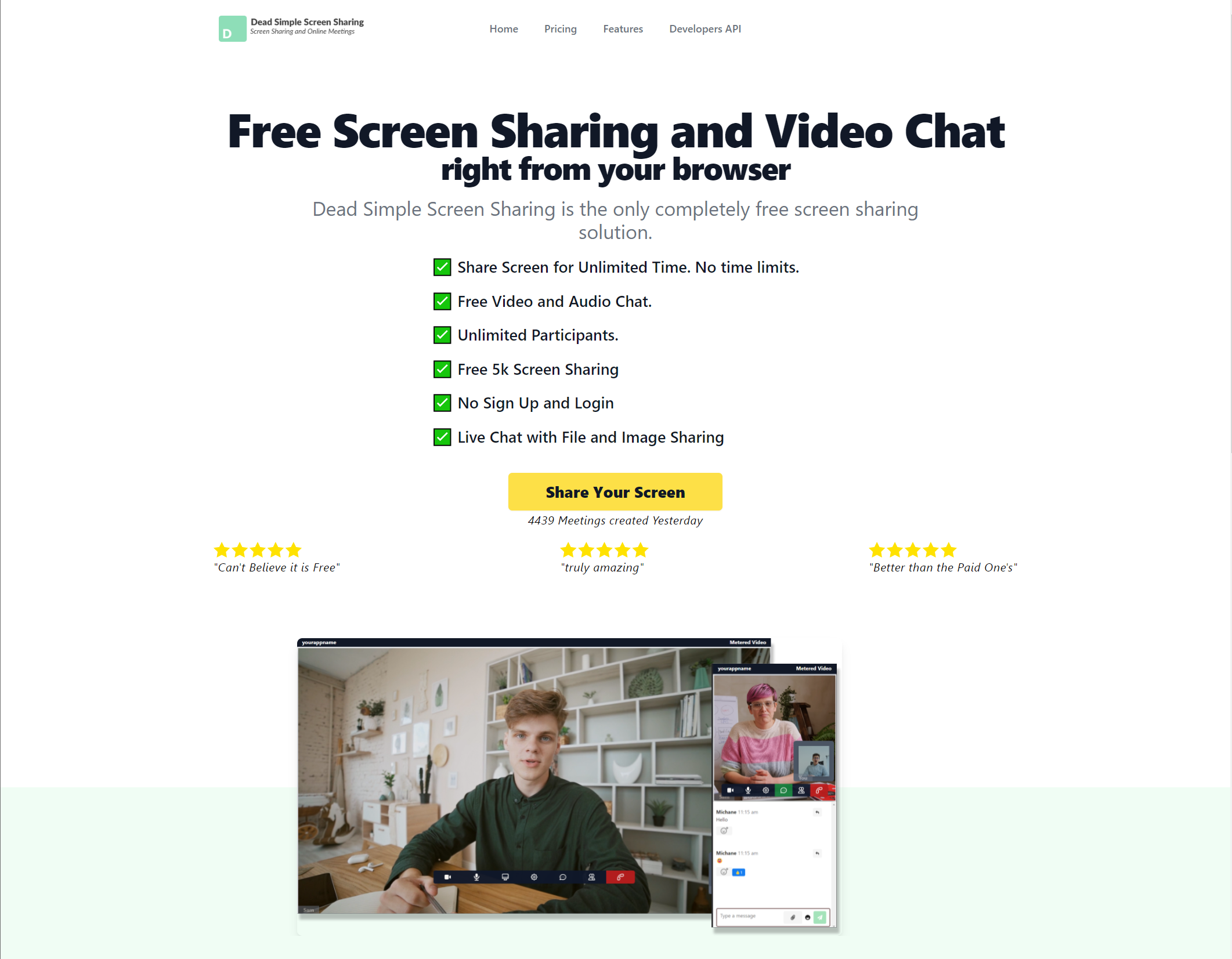 Leave a Reply
Your email address will not be published. Required fields are marked
---
Subscribe
Join the newsletter to get the latest updates.
---
---